Custom printed Leggings
We have put a lot of thought and development into how to make your custom leggings not only look good, but wear well and last long. Here's a bit about how your custom pair of art designed leggings comes together: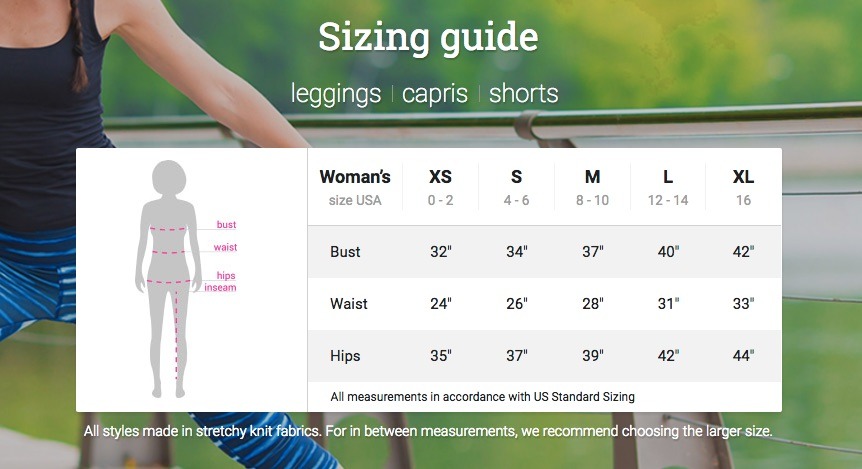 Features
88% Polyester and 12% spandex
Made in Canada
Made from 88% polyester 12% spandex performance wear fabric manufactured in Canada.Every pair of leggings is printed and sewn by hand in Montreal, Canada. The fabric we use was also developed exclusively for us, and is made by a local Montreal mill.
Compression fit
Easy to care for
High waist
Compression fit due to our high spandex fabric. Our leggings hug in all the right places and suit all kinds of body types..Vivid print that will never fade after washing. Our ultra-stretch fabric holds shape even after multiple wearings.Thick elastic waistband finishing and cover stitched hems. Elastic generally will rise just under your belly button for most sizes
EcoPoly fabrics
From yoga to dinner
All our stretch fabrics feature an EcoPoly fiber. This fiber is considered eco-friendly since it requires significantly less energy and water use during manufacturing.Your leggings can be active wear or going out wear!
Our Custom Printed Legging Fabric
After many months of testing for washability, endurance, and comfort, we developed our own perfect legging fabric formula.
When we set out to create our custom leggings, we started right down at the fibers! We searched out one of the last knit textile manufacturers in Montreal and sold them on our crazy idea to make custom leggings a reality.
Our fabric is medium weight and sturdy, yet breathable. stretches to fit your body, hugs in all the right places and bounces back after washing. You can wear your leggings over and over and they won't lose their shape.
Our Custom Legging Printing Method
Now that we have the perfect fabric base to carry your artwork, we move on to getting the perfect print. Our leggings are printed using solvent free sublimation inks. This printing method gives a vibrant, beautiful range of colours. We have worked with colour specialists to provide the most accurate colour matching to your original artwork as possible on fabric. And the most important part? Your printed leggings won't fade after wearing or washing! Your printed leggings are also easy to care for. Custom printed leggings are like getting a tattoo; Once you have one, you'll want many more!
How Your Custom Leggings are Sewn
We proudly make all of our products in-house. That means when you design a pair of leggings, we receive your order, print your design onto our fabrics, then cut and sew your custom leggings. Each order is handled individually by hand by our production team and is checked along the way for quality printing and sewing. We sew our leggings using a 4-thread overlock which incorporates a safety stitch along the seam for durability and stretch.
Based on the colours in your artwork, our sewing team will use their discretion for what colour best matches your design.
We have the option of black thread for darker colours, grey and white thread as a neutral and for lighter coloured designs. Since we are printing on the surface of what is originally white fabric, it is normal to see the original colour of where the thread is piercing and passes through the fabric, especially along the elastic waistband.
Care instructions
Easy to care for and keep looking new! Machine or hand wash your leggings and capris in cold water. Tumble dry on regular or hang to dry. Please do not bleach. The fabric is naturally quick-dry so you won't have to wait long before wearing again.